Kentucky Fried Pixels 2018
---
This will be a quick update, but rest assured we have been hard at work on Cool Carkour! Since the last update we have focused on these 4 things:
More Levels
Brand New UI
Skeleton of our Mods Shop
Mobile IAP plans
More Levels
The biggest focus immediately after the update became level design. We took in a lot of feedback and really needed to find ways to ease the player into how the game works. We have now built out a lot of new levels that help ease you into the mechanics and concepts of the game, at least for the first two tools. We have plenty of work to go here, but we feel confident about how to approach it, have a plan to move forward, and have tasks on our backlog ready to bet tackled.

Brand new UI
Our second focus has been the UI. We've known from the beginning there were major issues with the interface, and we have struggled to solve those problems. I think with the latest round of changes we've really tackled all of the major issues. We are really happy with the feel of the UI, and are able to now start really tweaking the small things and juicing it up! There is always polish to be done, but the base of our new UI feels good to us, and our playtest feedback has included considerably less UI related confusion. Big props to @loilemix for working through so many iterations to get us to where we are!
Skeleton for Mods Shop
We have had this concept floating around for a while, but we have now officially developed a plan and begun work on a Mods Shop in the game! This means you'll be able to unlock different types of cars, wheels, trails, and accessories to make your Carkour runs even more exciting. These mods will not be DLC, or IAP locked, and will be fully unlockable with any version of the game. As you complete puzzles, you will be awarded "Splat Cash" that you can spend in the Mod Shop to unlock your favorite Mods! Here's a preview: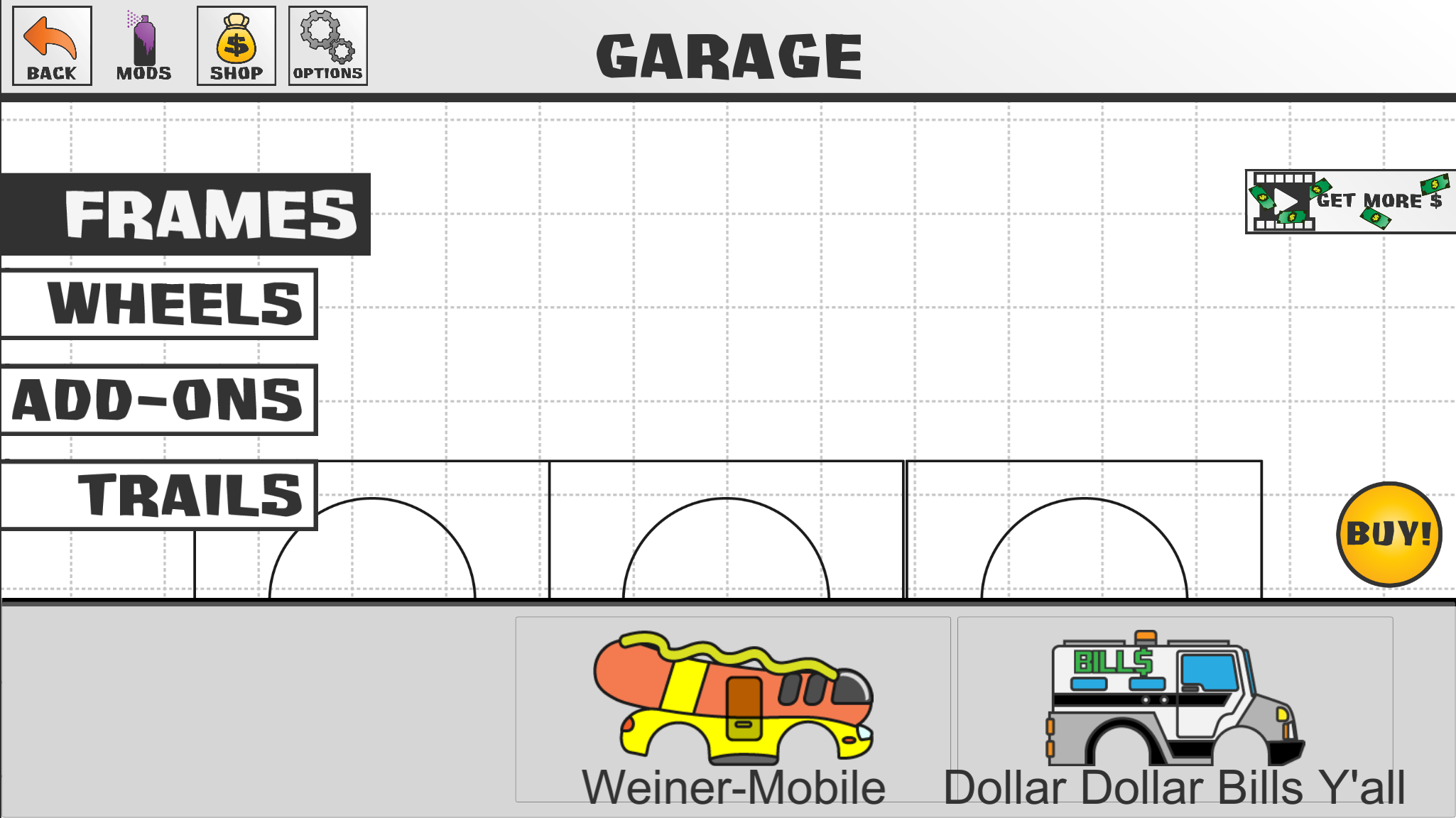 Mobile IAP plan
I know In-App purchases can be controversial, but yes, Cool Carkour for mobile platforms will have some in-app purchases (and advertisements). However, we aren't excited about having to add them, and are making sure that we follow these rules:
No content will be gated behind an IAP
Our IAP will not be designed to attempt and exploit our players
100% optional
So why are we adding any IAP? Well, we do need a monetization plan for mobile, and this felt like the best path forward while making the game accessible to as many players as possible. The IAP that we have will not affect gameplay in any way, and will be available as really a way to support us as the developers if a player feels we have provided valuable entertainment.